Every Little Thing- Jamie O'Neal
3.62MB and made on 28th March, 2005
Typically an idea that came to me as I was trying to sleep! *headdesk*

Frightened- Toby Lightman
4.54MB and made on 7th December, 2004
For my girls, Jen, Wendy, Matti and Meghan!! :D


Push- Sarah McLachlan
4.37MB and made on 9th October, 2004
A Sam/Janet video which I hope you'll all like :)
This Woman Needs- SheDaisy
1.72MB and made on 11th January, 2004
Mini vid Sam/Jan video.

To Be With You- Jamie O'Neal
7.00MB and made on 4th June, 2003
A long time in coming but I think it was worth it! Thanks to LauraJo for her help and Geonn for keeping me amused while I finished it.
Anytime You Need A Friend- Mariah Carey
3.05MB and made on 5th January, 2003
This vid is for Meesh because she needs cheering up and really is a fantastic friend! Also for Ally, because I'm hoping it'll make her finish another Sam/Jan fic.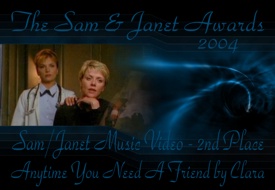 Strange Relationship- Darren Hayes
3.41MB and made on 20th June- 2nd July, 2002
My 40th music video. Thanks to Linsey since the song was her idea, the Paul Davis appearance is for you and Martouf appears for Meesh... I wanted to cause him pain but she wouldn't let me *mutters* This vid is Jack/Daniel, Sam/Jack, Sam/Janet (in that order)

I Think I Love You- Kaci
2.32MB and made on 8th April, 2002
My first Tia Maria (Sam/Janet) video and I'm actually happy with this one!!!